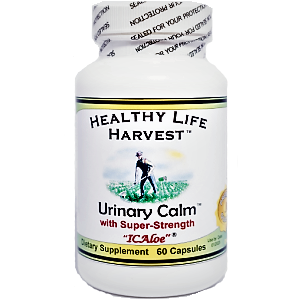 Urinary Calm: This is a D-Mannose Supplement for Urinary Tract Support ;

60 Easy to swallow, Vegetarian Capsules. (2 caps per serving)
This Dual action formula starts each serving with 600mg of D-Mannose to Cleanse & Flush the Urinary System. The second part of each serving is 200mg of our Clinically proven ICAloe blend that goes to work on soothing and comforting the urinary tract.
These two things together assist the urinary tract by keeping down inflammation, calming spasms, gently cleansing and flushing the urinary system, the ICAloe has been reported to help with IC, IBS, Lupus,Fibro and Spasms in the colon. NO other product gives you all that and helps with Urinary Tract Issues too.
$28.99
Description
Reviews
Ingredients
Description
Urinary Care

– Healthy Life Harvest has created this formula to

provide potent long-term urinary tract and bladder support.
Gentle Cleanse – Each 800mg serving is a sophisticated blend of D-Mannose and ICAloe for powerful Urinary Tract and bladder wellness and comfort. D-Mannose is an all natural sweet powder that helps to flush out impurities from your urinary tract.
Clinically-tested ICAloe added: Urinary Calm is a comforting and calming supplement containing ICAloe which has been clinically shown to support Interstitial Cystitis and Bladder health making this formula "IC Safe" as it does not contain Hibiscus or Cranberry which everyone knows may flare up I.C. ICAloe Blend has 30 years of helping comfort the bladder and help with IC, IBS, Lupus and Fibro.
Complete dual action formula:

The only product

to contain both,

D-mannose and ICAloe blend

, to cleanse your urinary tract from unwanted bacteria, promote proper pH balance and support long-term urinary and bladder well-being.

Everything your Urinary tract needs:

Urinary Calm

capsules contain an All Natural blend, completely free of fillers, binders, artificial ingredients, gluten, wheat and animal testing for clean urinary and bladder support.

Usage instructions:

Take 2; easy-to-swallow vegetarian capsules daily with a meal and water to detoxify your system while flushing away impurities from your urinary tract and improving overall urinary tract and bladder wellness.

Healthy Life Harvest

did not add Silicone Dioxide or Hibiscus or Cranberry to this formula – This formula is specifically designed to comfort and cleanse the Urinary Tract.
Reviews
Ingredients